Vor einigen Jahren, als der Blaubarsch eine noch recht unbekannte spezies war und BF1918 noch durchweg auf mindestens 2 Servern gespielt wurde, hatten sich die damaligen Dev's die Sundaynightgames ausgedacht.
Das war ein Ereigniss speziell an die Publics gerichtet, beidem man sich Sonntags 19Uhr auf einem NGZ-Server traf und diesen Open End ordentlich füllte.
Die Kiste lief meist sehr gut, ohne Autounfall und lang, wurde jedoch eingestellt als die Ngzserver down gingen.
Eine Weile später füllte Inside diese Lücke und erweckte die Spiele wieder zu Leben.
Auch hier wurden die Server wieder gut gefüllt, wenngleich es keine gratis Kirschen für die Teilnehmer gab.
Jetzt, in Zuge eines kürzlich erschienen Releases, wird diese Tradition zum dritten Mal zurück geholt und soll nochmehr Fahrt aufnehmen als ein Bobbycar.
Gespielt werden wird die Version 2.8, womit man endlich mal die neuen Karten mit mehr als nur 4 Spielern spielen kann.
Für die, die noch auf den 2.8 Patch gewartet haben eine Enttäuschung, es wird keinen geben, ihr müsst also den Full-Client ziehen.

Geplanter Termin ist Sonntag der 13.01.2008 um 19 Uhr auf dem Daddeltreffserver

gespielt werden: Battle of Cambrai, Battle of the Nete, Besika Bucht, Bismarck Archipel, Bocage, Cassino, Champagne, Chemin Des Dames, Fort Vaux, Montblainville, Monte Piana, Operation Gericht, Roye, Somme Gasattack, Tanzanian Plains, Villers Brettoneux
Daddeltreff ist der derzeit stabilste Server, weshalb die Wahl auf ihn fiel.
Wir hoffen auf rege Teilnahme, auch von clanlosen Publics.
Wer weiss, wann wir wieder so jung zusammen kommen ...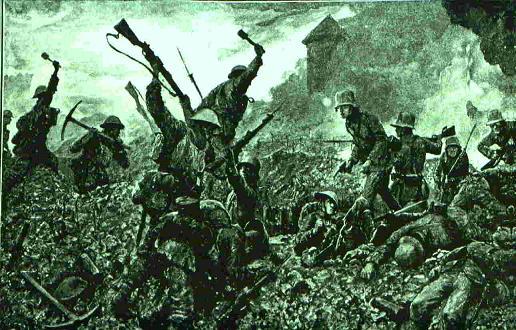 endlich da: Weltfrieden (nicht im Bild)